Source: Durham works to fix opioid crisis
Originally published July 26th 2018
DURHAM — Durham Region is not excluded from the public health crisis surrounding opioids, which has local governments and community partners hustling to get a handle on.
"The situation in Durham is similar to other areas within the province," said Durham Region public health nurse Chris Arnott. "We are also seeing an increase in overdoses. »
In 2016 emergency department visits related to opioid use were 248 at Lakeridge Health, and in 2017 that number jumped to 347, said Paul McGary, director of mental health and addictions at Lakeridge Health and Pinewood Centre.
He said fentanyl use has been on the rise in recent years.
"As a drug it's a very powerful opioid," he said.
A lot of the people being affected are our neighbours, he said, people with chronic back pain who can't get off of the pain medication they were prescribed. When their doctor won't prescribe it anymore, they turn to the streets and score drugs from illegal sources.
McGary said in many cases drug overdoses from fentanyl are not related to a person who shouldn't have taken that extra hit; it was someone who didn't know just how strong the drug was.
"It's a public health disaster in fact," he said.
But Lakeridge and many organizations in Durham are working to address the problem.
In August 2017, the Ministry of Health and Long-Term Care announced public health units across the province were accountable to improve local opioid response capacity. The scope of this work is divided into three components: local opioid response; Naloxone (a medication used to block the effects of opioids, especially in overdose) distribution; and opioid overdose early warning and surveillance.
The Durham Region health department has released the new Opioid Response Plan Report which highlights the goals and next steps in dealing with opioid misuse in Durham.
In October 2017, the health department held an opioid forum, bringing together local agencies to discuss opioid misuse in Durham and to begin planning for a co-ordinated local response to this urgent situation.
"We had over 90 participants, representatives from community agencies attend that forum," said Arnott.
The results of that forum are detailed in the Durham Region Opioid Forum Report, available online at durham.ca.
The Durham Opioid Task Force, which emerged from the Opioid Forum, consists of a broad representation of key community stakeholders. It includes treatment and harm reduction organizations, first responders such as police, fire and paramedic services, local school boards, First Nations and people with lived experience. The task force has worked to develop a local opioid response plan to reduce the rates of opioid use, misuse, overdose and deaths in Durham Region.
"It really is an excellent representation of first responders, people who have access to their own data," Arnott said.
From that task force, three subgroups were formed.
One looks at real time overdose data and surveillance; the second focuses on co-ordinating and enhancing local treatment services and harm reduction services; and the third addresses doing more education and awareness strategies to really address stigma and inform public and health care providers on the connection between mental health, trauma and substance use.
"That's really in the hopes of trying to increase compassion as to why many people are resorting to use substances and to help break down barriers of stigma so people suffering substance abuse disorders are more interested in seeking help," said Arnott.
McGary agreed that many people who misuse opioids have experienced trauma.
"It may be childhood specific and it may be through sexual assault as they got older and so forth," he said.
The most common are those who have experienced physical or sexual trauma and haven't received special care.
"There's a very close association with (it) all," he said.
Lakeridge focuses on treating multiple disorders, such as drug dependency and mental health.
And it too is taking part in addressing the issue, which McGary referred to as an epidemic.
"We have a lot of things on the go," said McGary, also the co-chair of the Central East LHIN Opioid Strategy Action Group.
One project was opening a rapid addiction medication access service. It's on a walk-in basis, and people can walk in and get started on medication on the spot.
"We've seen just over 200 people. We opened on Jan. 30," said McGary.
Ideally, clients go for four to six sessions.
"Those 203 people so far have made 605 visits to the clinic," he said.
People can also be referred by their family doctor or an ED (emergency department) doctor.
Lakeridge has also launched a service providing fentanyl test kits.
"To make things even better we don't require people to be clients of our service," he said.
They can just walk in and ask for it.
"We're going to spend 10 minutes with you and just give you some education on how to use it," he said.
Lakeridge has also hired addiction counsellors to not only support the new clinics but also to provide better community withdrawal management support.
Lakeridge is also addressing over-prescribing. Canada is the second largest prescriber of opioids, with Ontario the biggest in Canada.
McGary was part of a large education session on prescriptions and over-prescribing opioids in June.
He's had dental work a number of times, said each time he came home with an absolute "boat load" of Percocets or Tylenol 3s.
"Not only are dentists prescribing them, dentists are responsible for a whole bunch of opioid starts," he said.
Lakeridge is also leading the pack in being one of the very first in the province that started using Suboxone, a drug to treat opioid dependency.
"People until now have only thought of Methadone as a safer alternative just to using street drugs," McGary said.
He said it's cheaper, safer to administer, and clients don't have to do a urine test every day.
"We're not done yet. We've got other stuff that we want to do," said McGary.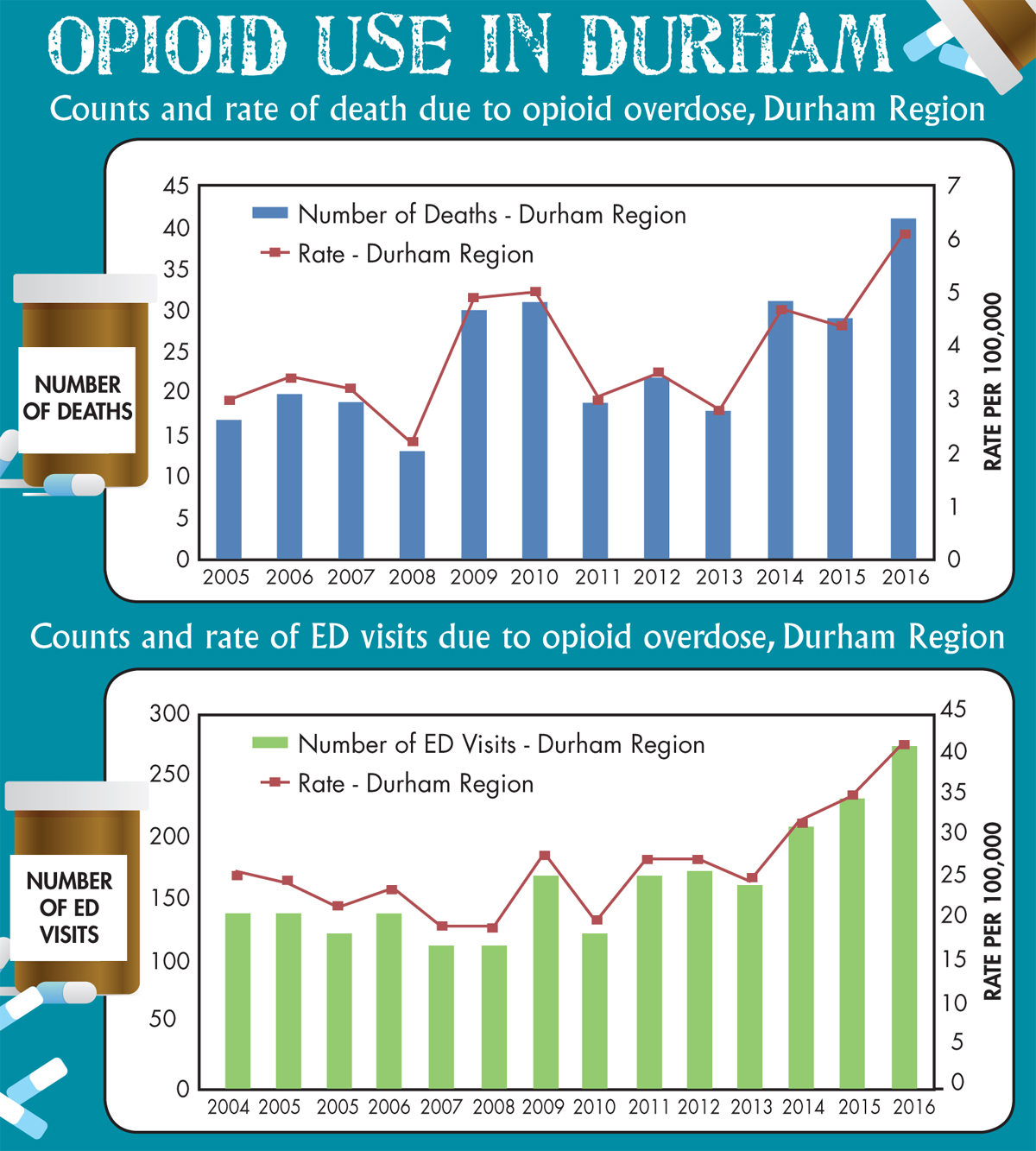 According to statistics in the Durham report, the number of hospitalizations from an opioid overdose in Durham Region residents increased from 59 to 82 in 2016. The number of deaths increased 2.5 times from 17 in 2005 to 41 deaths by 2016.
In 2017, 24 per cent of Durham Region students (grades 7 to 12) reported that it was very easy or fairly easy to get prescription pain relief pills if they wanted them and nine per cent reported getting them most often from a parent or sibling.
Perinatal exposure to opioids for pain management, or as a result of misuse and abuse of prescription opioids or heroin, is associated with adverse birth outcomes such as neonatal opioid withdrawal. Since 2002, the incidence of neonatal abstinence syndrome (NAS) in Durham Region has increased. By 2016, there were 33 deliveries of infants with NAS.
For more information about the health risks of drug misuse, how to help a family member, and a list of services in Durham Region, call Durham Health Connection Line at 905-666-6241 or 1-800-841-2729 or visit durham.ca.